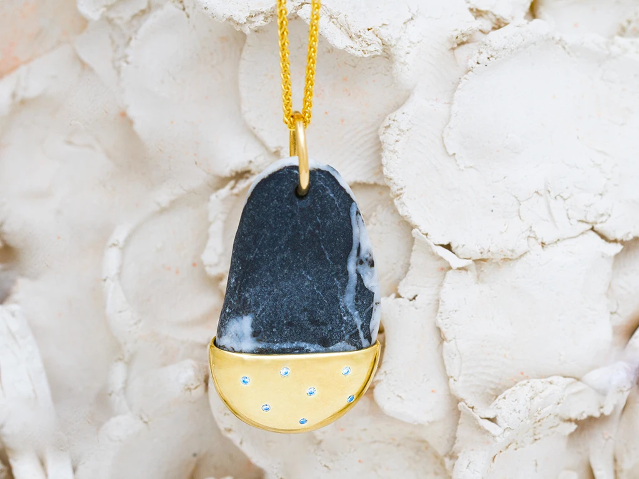 Posted on
---
At Thesis, we specialize in one-of-a-kind jewelry handmade by master artisans. We're honored to share our custom creations — and to help bring your very own dream design to life. 
Our passion for beautiful, timeless jewelry is paralleled only by our passion for ethical labor and sustainable mining. We support best practices from source to sale.
This combination of craftsmanship and transparent sourcing is what brings clients to work with us. Learn how you can create a unique and meaningful heirloom to last for generations with Thesis.
(Gold Pebble Pendant with beach pebble, 18 karat reclaimed gold and Canadian diamonds)
The Thesis Difference
When you create a piece of jewelry with Thesis, you know who is crafting your design and exactly what techniques and materials they're using. Each ring, pendant, and bracelet is hand fabricated by our master goldsmith using ancient goldsmithing techniques rarely used today, including hand carved wax casting. We use investment quality gems cut by the finest contemporary lapidary artists, or gem cutters. And we source only environmentally responsible precious stones and metals.
As one client said, "The ring that [Thesis] created is stunningly beautiful and perfectly executed in quality and design. It's an heirloom, pure and simple, and I am so fortunate to have it in my family." (See this client's beautiful custom design here!)
(Custom Colombian emerald ring by Thesis Gems)
A Personalized Design Process 
We go to great lengths to ensure your vision is flawlessly executed. The entire process is centered on you; through conversation and brainstorming we develop a design that reflects your distinct style and values. 
Our collaborative custom design process can be broken broadly into three steps: First we get to know you, then we work closely together to create a design while engaging our artisans at the same time.
Step 1: Strike Up a Conversation
It all starts with listening to you. We learn whether you want to create a ring, pair of earrings, a necklace, or another style. We ask about your favorite gemstones and your ideal size and cut. You share pictures, sketches, and any other sources of inspiration you can think of to convey your vision. Once we have a clear concept for your design, we discuss budget and prepare a rough estimate before we proceed to the next step.
Step 2: Create Your Design
Now we flesh out your design and refine it until you are fully satisfied. This happens through close collaboration with our team, including creative brainstorming sessions and feedback on mockups. It's a fun and exciting process that results in sketches and renderings if needed of your final design. With your ultimate approval, we're ready to start fabrication.
Step 3: Our Artisans Go to Work
Our master goldsmith is at the top of her craft- she hand fabricates your jewelry through ancient, labor intensive techniques. Custom pieces generally take four to eight weeks to complete, and we'll keep you updated throughout the process should any questions or concerns arise. 
Once we've put the finishing touches on your custom design, we ship it to you overnight with full insurance. Imagine finally opening that package.
A Lasting Work of Art 
Wearable gemstones are not only a wise and valuable investment, they're works of art that delight the senses. When you design a custom piece of jewelry, you're creating a true treasure to enjoy throughout your lifetime and for generations to come. 
If you are interested in a custom design or bespoke piece, get in touch today. We are happy to answer your questions without expectation or commitment. Reach out via email at cate@thesisgems.com or give us a call at (510) 556-6443. You can also DM us on Instagram.
Subscribe to our newsletter
News, Recent Collabs and Events. Directly to your inbox.