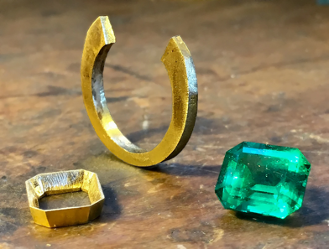 Posted on
---
"Raw Materials Inspire Me Most" 
Jennifer Zimring and I connect over more than gems and precious metals. We're both raising kids in the Bay Area, have backgrounds in medicine, and care deeply about the origins, quality, and ethics of our jewelry. Yet we were brought together by a particularly beautiful loose garnet. 
Jen saw a photo of a garnet we posted to Instagram and reached out. Little did I know that first interaction would launch some thrilling collaborations and a friendship founded on a shared love of materials and design. Jen's thoughtful eye and creativity make her an ideal design partner, and a great source of inspiration for others thinking about custom projects of their own. 
A Lifelong Love Affair with Jewelry
For Jen, there is more to jewelry than beauty and sparkle. "I have a huge love of the materials and process," she explains. Jen collected rocks and minerals in her youth, and fell in love with the colors, textures, and stories they offered. In high school, she stumbled upon a trove of southwest Native American jewelry at a local store and started saving her money for turquoise rings rather than more typical teenage interests. "That was a complete obsession of mine," says Jen, who adores turquoise to this day. 
Years later, into her career as a physician assistant, Jen was able to more fully pursue her passion for gems and jewelry. "It started with my engagement ring. It sparked something in me and brought me to a community of diamond and jewelry-obsessed people." Jen delved into the different periods and cuts of antique diamonds and became a collector. Working with jewelers and designers on bespoke pieces was a natural next step.
(Swivel and Drop Reversible Earrings with tsavorite and antique rose nouveau diamonds)
From Raw Material to Awe-Inspiring Finished Piece
"I've worked with a lot of different jewelers and made custom pieces with other designers. Cate is my favorite to work with," says Jen. "There is an ease and mutual respect that is really special. And even though I know it's going to be amazing, I'm always awed by the final piece"
The process typically starts with a loose or repurposed stone that captivates Jen, either from her collection or my own. Then we share ideas, pore over photos for inspiration, and collaborate on all aspects from materials to layout. "The raw materials inspire me most," she explains. "And there's usually a nod to antique jewelry in the design." For example, Jen bought an old european cut diamond and we added side stones to make a three stone ring. Among many custom pieces, we have also created a moonstone signet ring and, most recently, a lariat necklace based on a shield emerald and another old European cut diamond.
In one of our most memorable collaborations, Jen wanted to repurpose the diamonds from her original engagement ring. "I already knew I wanted a gold crescent moon pendant," she says. "Cate suggested adding smaller diamonds to complete the design, and the goldsmith collaborated in the layout as well. Her goldsmith is incredibly talented; I call the two of them the dream team."
Jewelry is "an Ethical and Political Commitment"
In an oversaturated industry, Jen says Thesis stood out because we showed "a real love of the quality and origin of each gem." Jen and I both believe that jewelry buyers should consider how their spending impacts others and the environment. As she puts it, each purchase "is an ethical and political commitment." 
Jen not only cares about using fairmined and eco-friendly sources, she also cares about the artisans and designers involved in the final creation of each piece. "It's much more exciting and gratifying to buy from someone small," says Jen. "It's just Cate and her goldsmith — and I love that. Like me, they have a love affair with the whole process, not just the finished piece."
(Wave collection ring designed by Thesis, a 1st place winner in the 2018 INSTORE Design Awards.)
Find Joy in Custom Jewelry 
In the midst of her hectic days, Jen finds moments of calm and beauty in her collection of loose stones and finished pieces. "It's sometimes my reset button from kids and life," she says. "To sneak away and look at them can be very calming. We call them little talismans."
Do you share Jen's passion for jewelry? At Thesis, we are conscientious about every aspect of jewelry design, from sourcing to fabrication. If you're curious about creating your own custom design, don't hesitate to reach out and tell me what inspires you.
Subscribe to our newsletter
News, Recent Collabs and Events. Directly to your inbox.