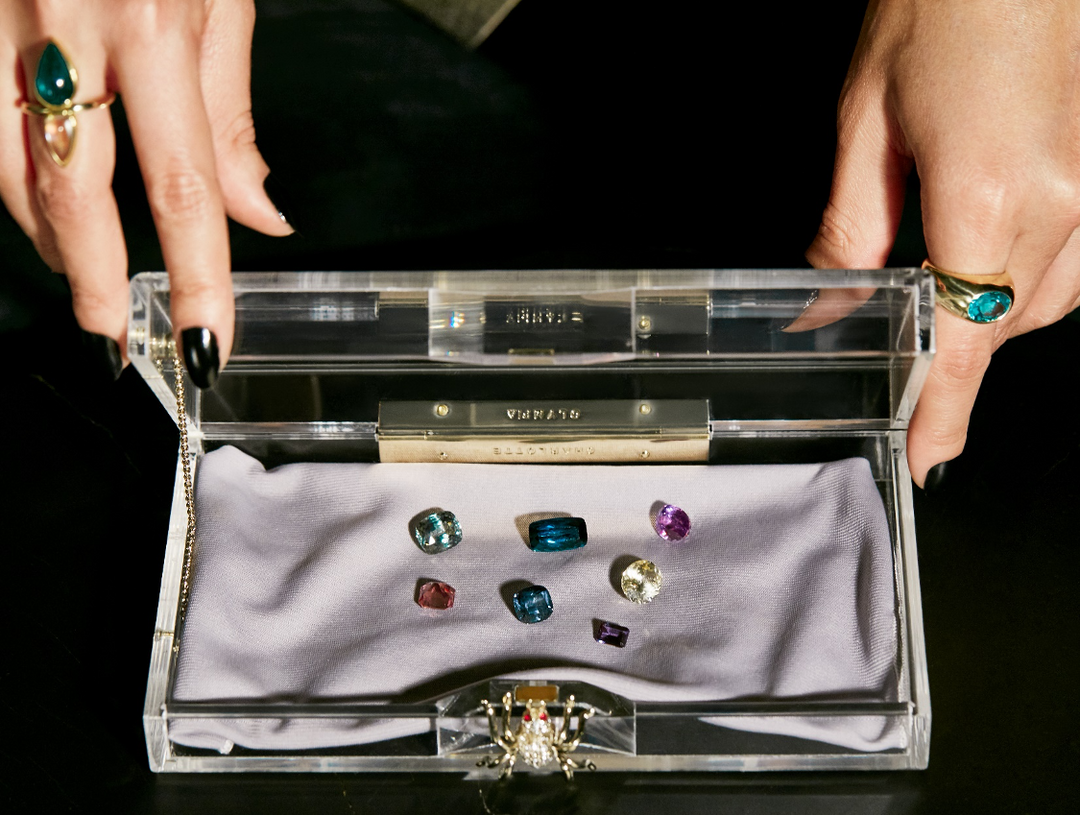 Posted on
---
Giving is joyful no matter what the gift. To express your affection for another, and earn their excitement and delight, is one of life's sweetest pleasures. Gifting gemstones and jewelry is especially gratifying as they uniquely reflect how you see and feel about the giftee. To add to that, the process of hunting down or designing the perfect piece is a joy to savor in itself.
Giving a friend, family member, or paramour a piece of jewelry is an intimate gesture that expresses deep and steadfast love. They will wear this heirloom of lasting value on their body, or keep it with their most precious belongings, and think of you each time they see it. Even if you have no experience with jewels, read on to learn how we can help you create a truly one of a kind gift this holiday season.
Be Inspired By the Ones You Love
A sublime gift is creating a custom design for your loved one. Start by thinking about this individual and your affection for them. What's distinctive about their personality? What stands out about their tastes, style, and how they express themselves? What special memories do you share? Write it down.
Then browse our website, Instagram, antique shops — whatever sources of inspiration you like best. Some people like to save images to Pinterest or use magazine cutouts to collage a mood board. But one idea is all you need to get started. It could be as vague as a color or an emotion you want to convey, or as specific as a pendant design you've sketched or a ring that's been passed down in your family.
Don't worry if you can't find inspiration, however. Collaboration is a journey and we will nurture the ideas that you have.
(Sundial Tsavorite Stud Earrings with Diamond Micropavé)
Delight in the Design Process
When you're ready, reach out to us at Thesis to start a conversation. We will talk through your ideas, inspirations, questions, and more without pressure or expectation. And if you decide to commit, we'll lead you step by step through a fun, stimulating, and deeply gratifying design process.
Choosing the gemstones is often an excellent place to start. Looking at magical emeralds, glittering tsavorites, fluorescent opals, or gleaming pearls is a true pleasure. People often find that they know the right jewel when they see it; they feel an unmistakable thrill and connection to the stone.
(Thesis Jewels - Modeled by Michella Cruz)
The stone you choose commonly inspires the rest of the design. For example, you might decide that a beautifully-cut loose emerald is best displayed alone, or enhanced by small diamond side stones. Each choice you make, from the type of metal, to the shape and layout, offers new interest and excitement. Whether you repurpose antique diamonds for a timeless pair of cufflinks, or create a boldly modern set of earrings, you will fall in love with the creative process and with watching the finished design take shape.
A Gift that Gives Back to the Planet
The joy of giving is one reason Thesis Gems exists. I wanted to give back to the people and places that produce the gems and jewelry I adore, so I started Thesis to help support miners and artisans and restore mining environments. 
We donate to organizations fighting to conserve and defend our planet, including The Sierra Club, WIRES Wildlife Rescue, Partners in Health, Doctors Without Borders, No Kid Hungry, Better Without Mercury, Mercury Free Mining, Navajo Nation Health, and others. Knowing that the impact of your gift ripples out to people across the world makes it that much more meaningful to you and your loved one.
To learn more or begin creating your own custom design, contact me today and tell me about the lucky someone you'd like to dazzle this year.
Subscribe to our newsletter
News, Recent Collabs and Events. Directly to your inbox.