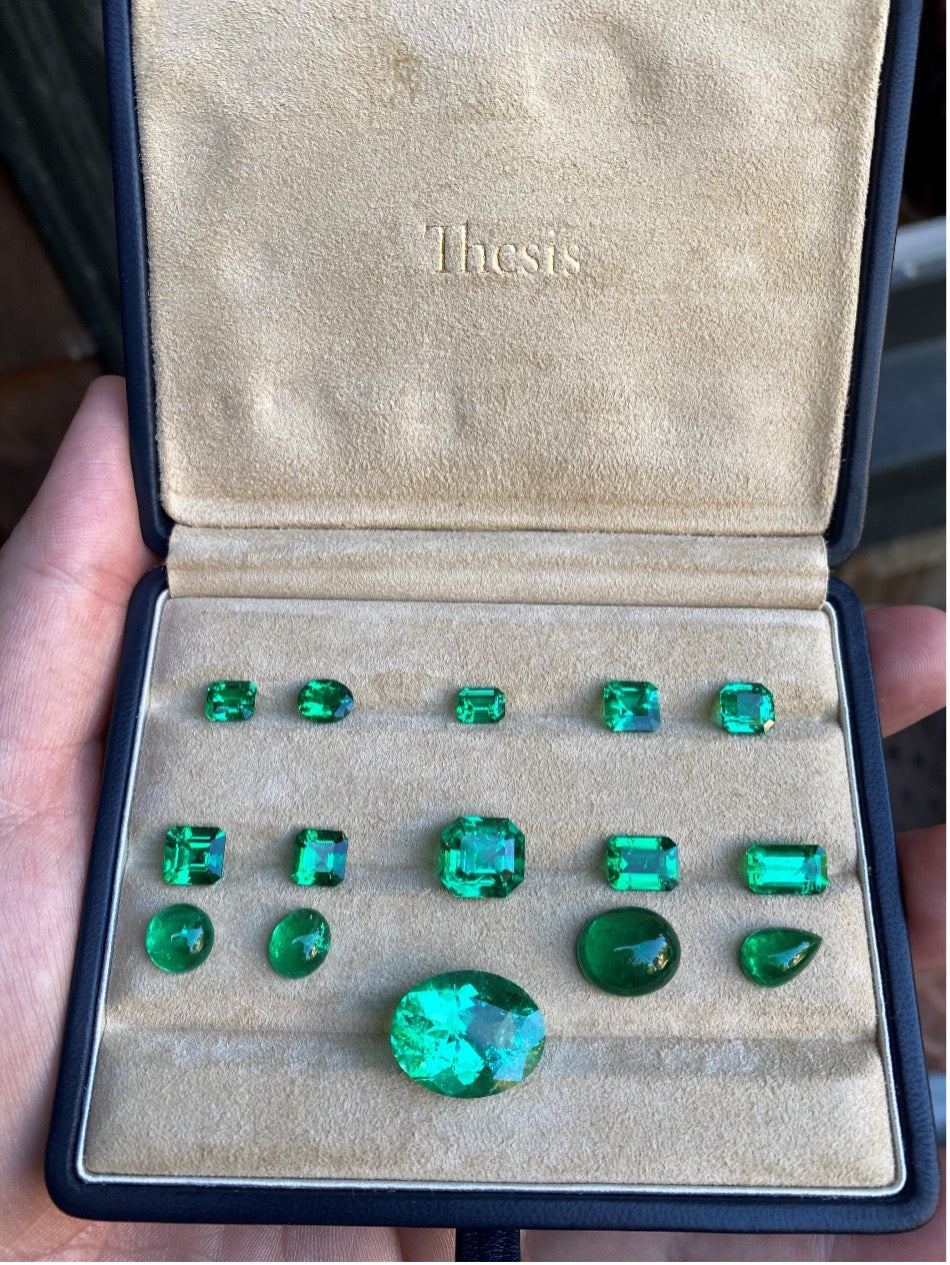 Posted on
---
Rarely, we offer an opportunity to see our gems and jewelry in the form of an intimate, appointment-only event. This December, with Poli Trading Co., we are honored to present a collaboration with Dutch master-goldsmith, Leen Heyne.
You will also view the exceptional gems from Poli Trading Company, Esmerelda Gems and B&B Fine Gems. 
A Private Gem and Jewelry Experience
Our events give the opportunity to speak with and ask questions of Thesis Gems founder, Cate Claus, and Poli Trading Company founder, Randy Poli. We will be at your service in this low-pressure, by appointment-only setting.
Relax in a secure and Covid-safe environment, enjoying cocktails, champagne, and hors d'oeuvres while perusing a curated collection of finished Thesis jewels and fine antique jewelry. The nature of this event means you'll be able to handle these precious objects in your own time.
The Art of Making
This event will be the debut of our collaboration with Dutch goldsmith, Leen Heyne. In his studio in Tilburg, Leen creates unique pieces that unlock the natural forces embedded in the precious materials he uses, leaving the door open to interpretation and evoking the inherent rhythm of the metal.
The collaboration is represented by one-of-a-kind jewels made by Leen's hands, including a gorgeous ring with a 5.12 carat champagne diamond from Poli Trading Company.


Sources
In addition to the gems and jewelry from Thesis' own collection, we'll be making available the finest selection of traceable loose gems from some of our closest collaborators.
You'll get an up-close and personal look at extraordinary diamonds, Colombian emeralds, and colored gemstones from Poli Trading Co., B&B Gems and Esmeralda Gems. Sapphires, spinel, garnets will be available for viewing, representing rare and exceptional quality.
As anyone who follows Thesis knows, our passion lies in crafting custom designs for one-of-a-kind pieces. These gems will be made available to create your dream statement piece.
Reserve Your Appointment Today
If you have even a passing interest in gemstones, you cannot afford to miss these nights. Between the intimacy of the event, the quality of the gemstones, the access to your hosts' expertise, and the opportunity to handle one-of-a-kind pieces, Gems and Cocktails will be a night you remember for years.
Get in touch with us today to confirm your private appointment. Call us at 510-556-6443 or email our founder personally at cate@thesisgems.com. With Thesis Gems, you can rest assured you are in the very best hands with an event you won't soon forget.
Subscribe to our newsletter
News, Recent Collabs and Events. Directly to your inbox.