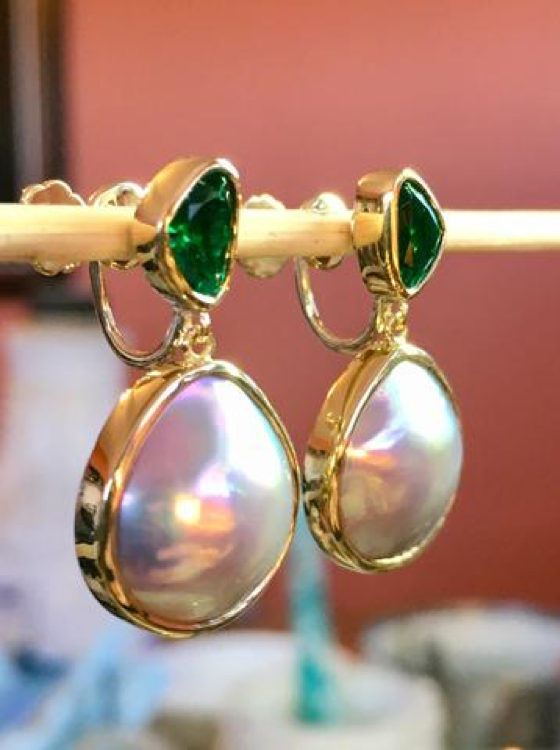 Posted on
---
 Radiant emeralds have been sought-after for thousands of years, and Colombian emeralds have the richest provenance. While collectors value the clarity of these verdant jewels, emerald mining practices have been less than transparent.
Thankfully, IEEX Emeralds is raising the bar for transparency in the industry with emeralds from Colombia's most legendary mines. 
The Finest Emeralds in the World
Colombia's unique geology is said to create the finest emeralds on earth. Indeed, IEEX emeralds owe their superior color and clarity to the unique qualities of the famous Muzo and Chivor mines in Boyaca, Colombia.
Unlike other emeralds that are found in solidified magma, Colombian emeralds form in sedimentary rock. Extreme pressure from tectonic activity turns beryllium, chromium, and vanadium in the earth into liquid and gas, which slides between sedimentary layers, then cools and crystallizes. A saline solution found in the sedimentary rock helps wash out unwanted impurities as the emerald forms.
Rough Colombian emeralds from the Muzo mine (source)
Exceptionally Rare Transparency
IEEX ensures that the quality of their emeralds goes far beyond the cut, color, and clarity of the stone. From the mines, to the welfare of the miners and local lapidaries, each link in the chain is considered equally as important as the gems themselves.
I spoke to George Smith, owner of IEEX, directly to learn more. He explained the ways in which he is involved at each stage of mining, cutting, and buying process in order to honor the land and people that bring us such extraordinary emeralds.  
Sustaining the Environment
"Open-pit mining doesn't exist anymore," says George, referring to an environmentally disastrous mining method that was common in Colombia just decades ago. Under old practices, excavated rock from open-pit mines would be dumped the nearest body of water, and erosion and pollution were rampant.
George explains that IEEX Emeralds "are mined through tunneling, without toxic chemicals. There are no acids, chemicals, or mercury involved." The mines are surrounded by mountains and virgin forest where "snakes are common, as are all manner of butterflies."
George Smith, owner of IEEX Emeralds, with a mine manager (source)
"Emerald mining in the Colombian tropics is, and will always be, tough work," notes George. "The remote, isolated nature, and blistering heat of the mining region is a world away from the kind of workplaces most of us in the West have become accustomed to."
That's why they have taken care to improve the lives and working conditions of the miners. IEEX miners work in safe, properly regulated conditions in 8-hour shifts with an hour lunch and two designated breaks. They are paid two times the national minimum wage, health insurance for all staff is mandatory, and absolutely no child labor is used. 
Rather than exporting rough emeralds to Asia, IEEX emeralds are cut by a master lapidary in Bogotá. The reason for this is to invest in the local economy and minimize their carbon footprint. 
A lapidary is an artisan who cuts, polishes, and engraves gems. IEEX sends their carefully selected rough gemstones to master lapidary Ricardo Jimenez. With over 40 years of experience, he is a skilled and passionate master cutter who has handled some of the finest emeralds to come out of Colombia.
Master lapidary Ricardo Jimenez (source) 
IEEX certified emeralds offer full transparency, right up through the final inspection process. Before finally being shipped to buyers across the world, every emerald is analyzed according to color, clarity, cut, and luster.
The inspection begins in-house, continues at a local gemological laboratory, and ultimately may reach a second laboratory for confirmatory analysis. When the emeralds get to us at Thesis, we can confidently verify their source and quality, as well as the mining methods and labor practices that made them possible.
An Emerald with Nothing to Hide
The ancient Greeks believed that emeralds could improve your memory and help you see the past, present, and future more clearly. IEEX Emeralds are proving this fable true by bringing clarity to gemstone sourcing, from mine to market. 
Thesis is honored to partner with IEEX to provide heirloom quality pieces from legendary Colombian emeralds that you can be proud to wear. Reach out today to learn how we can create a one-of-a-kind emerald heirloom of your own.
Subscribe to our newsletter
News, Recent Collabs and Events. Directly to your inbox.